Prof. James Brownjohn from the University of Exeter visited SMC
With Prof Hui Li's gracious invitation, Prof. James Brownjohn from the University of Exeter visited Center of Structural Monitoring and Control (SMC), School of Civil Engineering at Harbin Institute of Technology (HIT) from April 21 to 24, 2015. Prof. James Brownjohn gave a lecture on structural dynamics, full-scale performance and SHM, moreover he also gave an introduction of a new MSc program in Exeter for both the undergraduates and graduates at school of civil engineering. The people of SMC andProf. James Brownjohn hold a seminar on SHM research and cooperation on April 24.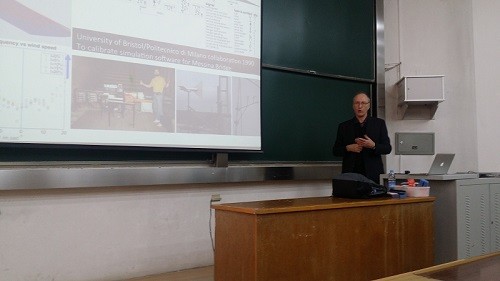 Profile of Prof. James Brownjohn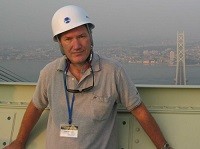 Professor Brownjohn joined the University of Exeter in 2013 after periods at University of Bristol (1984-1992), Nanyang Technological University Singapore (1992-2004), University of Plymouth (2004-2005) and University of Sheffield (2005-2013). His academic career has revolved around experimental assessment of the performance of a range of civil structures, using full-scale dynamic testing, long-term monitoring and shaking table testing.
His present research and professional interests include wind engineering, earthquake engineering, structural health monitoring (SHM), finite element model updating, vibration serviceability, system identification and biomechanics. He has published in all these areas in a number of journals. His experience with ambient vibration testing and operational modal analysis using minimal portable equipment is a complement to the forced vibration testing approach traditionally used by the Vibration Engineering Section, of which he is a member.
Professor Brownjohn is involved in promoting developments in structural health monitoring through involvement in the International Society for Structural Health monitoring of Intelligent Infrastructure as Vice President and by contributing to the ASCE State of the Art Report on Structural Identification of Constructed Systems.
Last Updated:2015-05-28