Dr. Xiangdong Du from RWDI visited SMC
With Prof Hui Li's gracious invitation, Dr. Xiangdong Du from RWDI visited Center of Structural Monitoring and Control (SMC), School of Civil Engineering at Harbin Institute of Technology (HIT) on April 24, 2015. RWDI is a wind engineering and environmental engineering consulting firm and has featured on numerous television documentaries involving wind engineering and related services for the worlds tallest skyscrapers and landmark structures. Dr. Xiangdong Du gave a lecture on Structural Wind Engineering and Sustainable Development for both the undergraduates and graduates at school of civil engineering. Then he visited the Joint Laboratory of Wind Tunnel and Water Flume, the Structural and Earthquake-resistant Testing Center and the Laboratory of Structural Monitoring and Control in HIT. The people of SMC and Dr. Xiangdong Du hold a seminar on wind engineering research and cooperation at the same day.
Biography of Dr. Xiangdong Du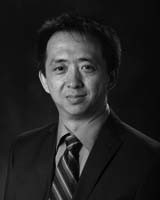 Xiangdong Du was a project specialist of RWDI previously. He now is the director of RWDI China Inc. His areas of specialization in RWDI are the cladding and structural wind loads on tall buildings and large roofs. He worked in CFD consulting group. He graduated from Tsinghua University with Engineering Bachelor degree and obtained his Master degree from Peking University. He received his Ph.D. from mechanical engineering, McGill University. His Ph.D. research centered on energy vibrational principles, CFD simulation and computational solid mechanics. He also has more ten years consulting and research experience in wind tunnels, water tunnels and tow tanks, which covers wind engineering and fluid mechanics.
Last Updated:2015-05-28